Current Main Focus
Conferences, Events, Networking
---
Conference Director
responsible for the program, speaker-scouting, content & international co-operations of our international conferences Quo Vadis and Respawn
Respawn - Gathering of Game Developers 2015 - 2017
/ gamescom Cologne 2015 - 2017
August 2015 - 2017
Conference Director
responsible for the program, speaker-scouting, content & international co-operations of our international conferences Quo Vadis and Respawn
Quo Vadis Game Developer Conference 2015 - 2017
/ Centerpiece of International Gamesweek Berlin 2015 - 2017
April 2015 - 2017
Head of Program
Concept, Curation, Dramaturgy of the program of Respawn
Strategy,  Cooperations with partnering events
August 2014 
Head of Program
Quo Vadis Game Developer Conference 2014
/ International Gamesweek Berlin 2014
April 2014
Team Deutscher Entwicklerpreis 2013,
Dezember 2013
Concept, Strategy, Program
of the newly invented Conference Respawn - Gathering of Game Developers
(in co-op mit Stephan Reichart)
August 2013
Processes, Strategy und Communications
Development of the Drupal program-backend infrastructure
(in co-op with Stephan Reichart, Michael Liebe, Christina Lamyon, Lena Alter)
Quo Vadis Game Developer Conference 2013
Deutsche Gamestage Berlin April 2013
First mini project at Aruba Events
Organising the expo and reception Games in NRW
Deutscher Entwicklerpreis 2012
Dezember 2012
Project-Management, Concept, Program
Next Level Conference 2011
(in co-op with Johannes Brauckmann und Stephan Schwingeler)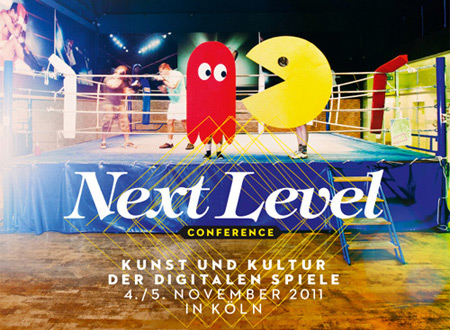 Concept, Planning, Execution
Scientific research conference on the relations of  games, body-movement and learning
ifs internationale filmschule koeln
März 2011
Core-Advisor of the initial Concept of the Next Level Conference
Opening keynote, Organisation and curation of the expo on the demoscene
Next Level Conference 2010
(in co-op with Can Rastovic, NRW KULTURSekretariat
and Tobias Heim & Johannes Brauckmann, Digitale Kultur e.V.)
Mai 2010 - November 2010
Advisor, Concept, Execution
Games & Film I
(in co-op with Alexandra Ohlsen and Wilma Warren)
ifs internationale filmschule koeln
März 2009
 I talk and write on Games
and the Demoscene
Talks / Workshops
Lecture: Curating game conferences - approaches, insights and experiences 
Guest lecture at Parsons School for Design, New York
Seminar of Benjamin Norskov 
New York City, October 2015
---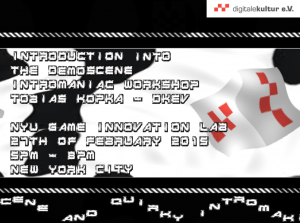 Workshop: "Quirky craft: an introduction into the demoscene in making Amiga style retro intros"
New York University, Game Innovation Lab
(Andy Nealen/ Katherine Isbister)
New York City, February 2015
---
Lecture: "Games / Culture / Business"
University of Cologne, Institute for Media Studies
Seminar of Prof. Dr. Benjamin Beil
January 2014.
---
Lecture: "Digitales Kamingespräch zwischen Tobias Heim und Tobias Kopka"
Digitale kultur e.V.
Next Level Conference Dortmund
November 2013
---
Lecture: Storytelling und Achievements: Motivationsstrukturen in MMOs,
Uni Siegen, Januar 2011
Keynote: Demos and Art
Opening Keynote first Next Level Conference
Cologne, November 2010
Lecture: Games und Kulturelle Bildung
in co-op with Stephan Schwingeler
Dortmund U, Zentrum für Kunst und Kreativität
Mai 2011
Lecture: Authentizität im Computerspiel
Museumsquartier Wien
Quartier für Digitale Kultur, Subotron
Oktober 2010
Lecture / Demoshow : Digital Art of the Demoscene
Digitale Kultur e.V.
Gamescom Mainstage
Cologne, August 2010

Lecture: Quo Vadis Demoscene?
SIGINT - Conference of the Chaos Computer Club
Cologne, Mai 2010
Lecture: Was man im Kultur-Bereich von Gaming-Communities lernen kann
in co-op with Anna-Carolin Weber
Start Conference 2010, Conference on Social Media for cultural management
Duisburg 2010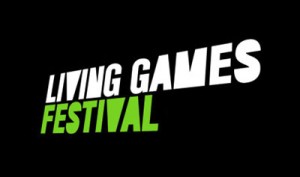 Lecture / Demoshow: Demos Howgo 2010
Living Games Festival 2010 / Ruhr 2010
Bochum 2010
Lecture: Community Building
(in co-op with Anna-Carolin Weber)
Start Conference 09
Duisburg 2009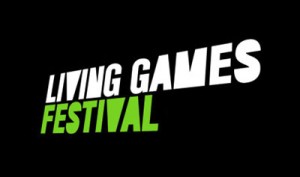 Lecture: Von Cracktros bis zu Mirrors Edge: Das digitale Graffiti der Demoszene
Living Games Festival 2009
Publications
Tobias Kopka, Demoscene - Wettbewerbskultur und Community, Artikel für Stiftung Digitale Spielekultur, Online 2016. Online available under (German only): http://stiftung-digitale-spielekultur.de/artikel/demoscene-wettbewerbskultur-und-community
Tobias Kopka, Interface Control Meaning. Eine typologische Gegenstandssichtung des Phänomens Exergames, in: Serious Games, Exergames, Exerlearning. Zur Transmedialisierung und Gamification des Wissenstransfers (Hrsg.: Freyermuth, Gotto, Wallenfels), Bielefeld 2013, S. 265-288.
Tobias Kopka, Anna-Carolin Weber, Community-Craft. Community-Strategien im Bereich digitaler Spiele als Anregungen für den Kulturbereich, in: Social Media im Kulturmanagement (Hrsg.: Karin Janner, Christian Holst, Axel Kopp), Heidelberg 2011, S. 115-147.
Tobias Kopka, Anna-Carolin Weber, Online-Communities. Theoretische und praktische Grundlagen für Kulturschaffende, in: Kultur 2.0. Neue Web-Strategien für das Kulturmanagement, Hrg. Hans Scheurer/ Ralf Spiller, Bielefeld 2010, S. 161-187.

Since 2001 in Video-Production and Editing
Before going professionally into the games industry I finished a masters degree (M.A.) in Theatre-, Film- and Media-Studies, worked for more than nine years at a film university and used to edit with Avid all kinds of semi-professional video productions for about the same timespan. If needed I´m nowadays working with Premiere or Final Cut.
Some of my videos are on or inspired by the Demoscene, and most of them are adaptations from art, dance- or performance-pieces, filmed with 3-4 cameras, most of them are not online for copyright-reasons of the used music on stage.
 Auswahl

Curation und Editing
Three video-exhibits on the topic  demoscene for the permanent collection of the Computerspielemuseum Berlin
Digitale Kultur e.V.
Berlin Oktober-November 2011
One of the few videos which are online is a trailer from 2009 to the dance-theatre-piece Madamski, which is using non GEMA music of a good demoscene friend, Kai Fischer 
 Chronologie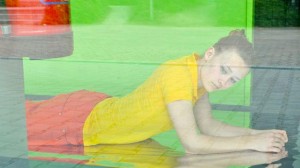 Videoadaptation
Dancetheatherpiece Like a tree,
Juli 2012

Videopiece für the exhibition Body Traces,
Kunstverein Leverkusen
Museum Morsbroich
Juli 2011

Curation und Editing
Three video-exhibits on the topic  demoscene for the permanent collection of the Computerspielemuseum Berlin
Digitale Kultur e.V.
Berlin Oktober-November 2011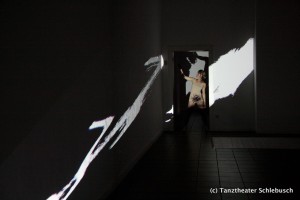 Live-Video-Projection und Video-Adaptation
Dancetheatherpiece Body Politics
Forum Leverkusen
Leverkusen 2010

Videoadaptation 
FATZER USW  Modul 1
Cap Cologne
Cologne, October 2010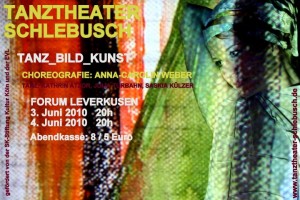 Videoadaptation
TANZ_BILD_KUNST,
Forum Leverkusen,
Leverkusen 2010

Videoadaptation
Dancetheatherpiece Madamski
Leverkusen 2009

Videoadaptation
Dancetheatherpiece Body Politics,
Cologne, 2011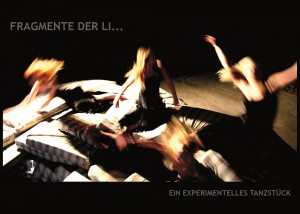 Videoadaptation/DVD-Production
Fragmente der Li..., Tanztheaterproduktion
Leverkusen 2008

Official entry for the video festival of the Soccer World Championship 2006
You´ll never walk alone:  Fussball-Dance-Film,
Cologne 2006
Konzeption, Videoarbeit, Animation, DVD-Produktion
ERROR, Tanzstück zu Identität/Terrorismus,
UA: Forum Leverkusen Mai 2006
Cologne/Leverkusen 2006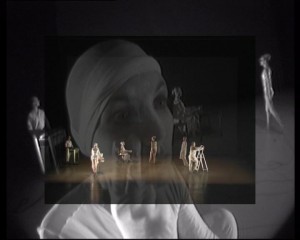 Videoprojekt
Movebor
zusammen mit Anna-Carolin Weber
Cologne 2005

Video-Projektionen für Bühnenstück, Videoadaptation/DVD-Produktion
Tanztheaterproduktion Lachen
Steinbruch im Sinneswald
Leichlingen, 2003
BABAMAMA
Politische Positionen zur Einführung der Bachelor und Masterstudiengänge
zusammen mit Christian Bauer
Cologne 2005

Videoadaptation, Video-Produktion
Tanzcollage Spuren,
Forum Leverkusen 2003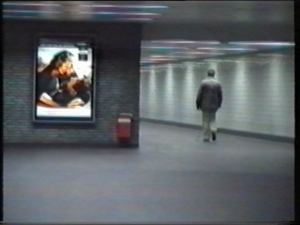 Musikvideo
Pulse
(analoges SVS)
Musik: Erik Skodvin (xhale / haujobb)
Cologne 2001

Musikvideo
Room101 (SVHS)
Musik: Kai Fischer / Jazz (haujobb)
Cologne 2001
Stuff I like to do from time to time as well
Exhibitions
Performance-Installation und Ausstellung im Kunstverein Leverkusen, Museum Morsbroich, Juli 2011 (zusammen mit Anna-Carolin Weber)
Museumsnacht Düsseldorf, Ausstellung und Demoshows zur Demoszene auf Einladung des reinraum e.V. (für Digitale Kultur e.V.) (zusammen mit Tobias Heim und Johannes Brauckmann)
Ausstellung und Performance, FATZER USW. Modul 2, Installation als Teil der Langen Nacht der Kölner Museen, Cap-Cologne November 2010
Ausstellung Störung, Ende Offen II, Alte Feuerwache, Cologne 2005
(in co-op with Elise Teitz, Anna-Carolin Weber, Ludger FJ. Schneider, Donatella Chiancone-Schneider, Andreas Simon)
Ausstellung Ende Offen, Kunstwerk Cologne, 2004
(in co-op mit Künstlern von Kunstkontakte e.V.  )
Performance
Performance-Projekt von Carmen Mac Williams, Christof Breidenich, Arthur Starocsky und Anna-Carolin Weber (Tanztheater Schlebusch) mit Guido Suchsland als Fatzer und Tobias Kopka als Sprecher
FATZER USW. Modul 3, Bühnenfassung, Premiere im Rahmen des Freispiel-Festivals, Forum Leverkusen, 25. Juni 2011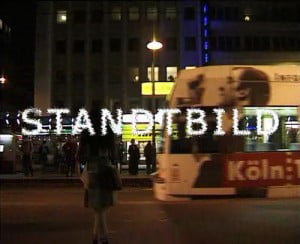 Performer in Standtbild, Videoarbeit von Leif Rumbke, Kunsthochschule für Medien Cologne 2003
Web Development
Program-Kurations-Tool für Quo Vadis.Create.Game.Business,
Backend-Entwicklung mit Drupal
(http://qvconf.com)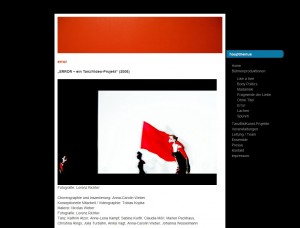 Website Tanztheater Schlebusch
http://tanztheater-schlebusch.de
Entwurf, Layout, CMS
2008-2012